Here at SBK, COVID has slowed us down but not stopped us. We are still working behind the scenes to fix up bikes for low-cost on-premises sales as well as donations to community organizations. In the below article, one of our valued volunteers, Andy, shares about one of our recent donation initiatives and what it means to the recipients. 
SBK Bikes Connecting Newly Settled Refugees to Jobs, Education, and Each Other
SBK recently donated a full truckload of bicycles to refugee resettlement agency Opening Doors. After evaluating the bikes and performing necessary repairs to get them rolling, our volunteers loaded 45 bikes – 25 child-sized and 20 for adults – into a U-Haul, shipping them off on Friday, June 11. Opening Doors then organized a fair at which people new to the Sacramento area – many of whom have overcome unimaginable hardships including human trafficking and political persecution – test-rode and chose their preferred bikes.
"Two wheels can give people so much freedom," Opening Doors Community Engagement Manager Julie Beckner said. "For our clients, bikes offer an incredible kind of freedom – geographic, economic, physical – not to mention a more fun and enjoyable life."
Families with whom Opening Doors works often arrive to our region with little more than the clothes they're wearing, only to confront new challenges such as living in small, overcrowded spaces and having work skills they honed for years in the countries they had to flee go unrecognized by employers here. Bicycles help them connect with their new home.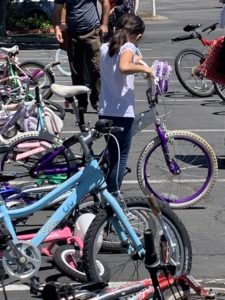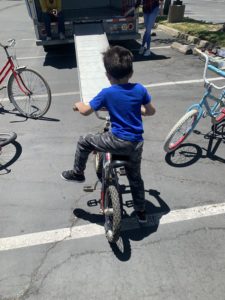 "The beaming face of a child choosing their new bike is just adorable," Beckner recalled. "And when kids play, moms talk, building a community."
While bikes give newly settled youth physical activity, social interaction, and happiness, they also provide adults access to workplaces, school campuses, and grocery stores. For example, an 18-year-old man now rides his SBK-donated bike to commute to ESL classes that recently returned to in-person learning, preparing him for future employment.
Biking is also important to the resettled population's recovery from the COVID pandemic, which disproportionately impacted their health and economic vitality. With public transit services not yet fully restored to pre-pandemic levels, people are riding bikes to fill what would otherwise be unnavigable gaps in our region's transportation system.
And though nothing can compensate for the increased instances of racial discrimination resettled communities have endured in recent months, a chance to be a part of Sacramento's strong biking culture provides a friendly, familiar welcome.
"Around the world, bicycles are the most common form of transportation as they not only offer a sense of freedom but also increased independence and mobility," according to Beckner. "Sacramento Bike Kitchen's generous donation to the refugee community ensures that as many people as possible are able to access community services like food banks, legal advice, healthcare, education, employment and much more. And anywhere, more ways to move about the community equals a win."
***
About us: SBK is a community-centered bicycle shop serving the residents of Sacramento, California. The organization has been formed in order to promote cycling as a low-cost, alternative form of transportation; enable self-sufficiency through knowledge of bicycle maintenance; and promote bicycle safety through education and classes.
About Opening Doors: Opening Doors' mission is to empower refugees, immigrants, human trafficking survivors, and underserved Sacramento area residents to achieve self-sufficiency by accessing opportunities to mainstream economic and social systems. The organization does this by providing safe places, skills development, business loans, and connections to community resources, assisting its clients to build financial and personal assets while maintaining their cultural identity and individual goals.